Date
July 2016
Overview



The 2016 NIJ Research and Development Symposium is intended to promote collaboration and enhance knowledge transfer of NIJ-funded research. The NIJ Research and Development (R&D) Program funds both basic or applied R&D projects that will (1) increase the body of knowledge to guide and inform forensic science policy and practice, or (2) result in the production of useful materials, devices, systems, or methods that have the potential for forensic application. The intent of this program is to direct the findings of basic scientific research; research and development in broader scientific fields applicable to forensic science; and ongoing forensic science research toward the development of highly discriminating, accurate, reliable, cost-effective, and rapid methods for the identification, analysis, and interpretation of physical evidence for criminal justice purposes. NIJ and the Forensic Technology Center of Excellence are committed to improving the practice of forensic science and strengthening its impact through support of R&D, rigorous technology evaluation and adoption, effective knowledge transfer and education, and comprehensive dissemination of best practices and guidelines to agencies dedicated to combating crime.
This report was published in RTI Press, a global publisher of peer-reviewed, open-access publications on a broad range of topics. The areas of focus reflect RTI's multidisciplinary research, our expertise in social and laboratory sciences, and our extensive international activities. Since 2008, the RTI Press has produced more than 100 publications. 
About the Authors


Nicole Suzanne McCleary, MS, is the associate director of strategic planning and operations in the Center for Forensic Sciences (CFS) at RTI International.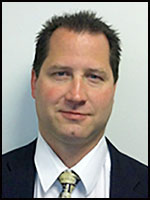 Gerald LaPorte, MSFS, is a supervisory physical scientist and director of the Office of Investigative and Forensic Sciences at the National Institute of Justice.

Funding for this Forensic Technology Center of Excellence report was provided by the National Institute of Justice, Office of Justice Programs, U.S. Department of Justice.
The opinions, findings, and conclusions or recommendations expressed in this report are those of the author(s) and do not necessarily reflect those of the U.S. Department of Justice.
Contact us at ForensicCOE@rti.org with any questions and subscribe to our newsletter for notifications.