2022 Seasons & Special Release Episodes
2021 Seasons & Special Release Episodes
2020 Seasons & Special Release Episodes
Case Studies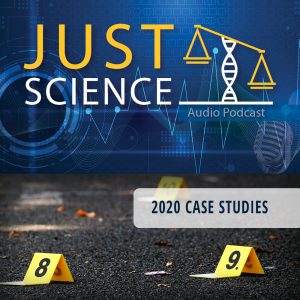 Criminal investigations often necessitate the application of a multitude of forensic disciplines. While some cases can be solved by a single piece of evidence, most have a myriad of evidence types to forward and investigation. Bloodstains, DNA analysis, latent prints, digital evidence, and reliable police work lead to arrests and can stop a criminal before any more damage is done.  
In our latest season, Case Studies, we sat down with a variety of experts and talked about their most interesting cases. Join us as we discuss bloodstain pattern analysis, photography, serial killers, and much more in this dynamic season of Just Science! 
Episodes Include:
Just Off The Shelf Forensics
Just Erroneous Identification
Just Identifying Fingerprints Through Photographs
Just the Grim Sleeper Serial Killer
Just Fingerprints And Lasers
Just the Jodi Arias Case
Just the Story Behind Bloodstain Pattern Analysis
Just Psychopathy and Criminal Behavior
Special Release Episode: Forensic Genetic Geneaology & GEDmatch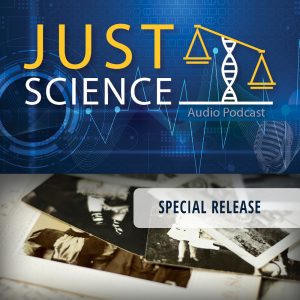 In this Forensic Science Week special episode, Just Science interviews Brett Williams, the CEO of Verogen, about the GEDmatch database, how it can be used by law enforcement to perform forensic genealogy searches for investigative leads, and the short- and long-term plans Verogen has for the widely used database and related services.
Verogen is a spin-off of the Illumina corporation and has grown to be an innovator in the realm of forensic genomic technologies. Since their inception, Verogen has evolved from forensic applications to focus on biometrics-based human identification, as a whole. Following this vision, in December of 2019 Verogen  acquired GEDmatch, a crowd-sourced database used by millions of genealogy enthusiasts to trace their family trees, but more recently it has been adopted by law enforcement to aid in cold case investigations. Listen along with our guest host, Donia Slack, as she and Brett Williams discuss the impact that genetic genealogy and GEDmatch have had on the criminal justice system in this episode of Just Science.
Just Forensic Genetic Genealogy and GEDmatch:  Verogen's Approach
Digital Evidence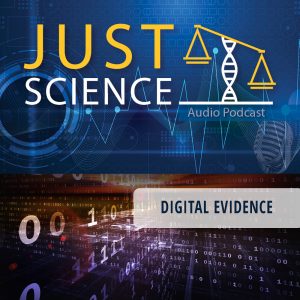 While the realm of digital evidence is still relatively new, it requires validation and testing like all forensic disciplines. Digital evidence is a dynamic discipline that can often provide greater insight into the investigation of a crime or the defense of the alleged perpetrator. In this season of Just Science, we will be covering the history and interpretation of digital evidence, emerging technologies used in investigation and as evidence, and the validation of digital forensic tools. 
Just the Impact of Disturbing Media
Just Deepfakes
Just NIST's Digital Forensics Black Box Study
Just Digital Evidence 101
Just Data Stories
Just Digital Evidence in the Courts of Appeals
Just A Public Defender's Perspective
Just the Evolution of Digital Evidence
Special Release Episode: Resiliency in Crime Scene Investigators
Special Release Episode: COVID-19 & Supporting Victims of Sexual Assault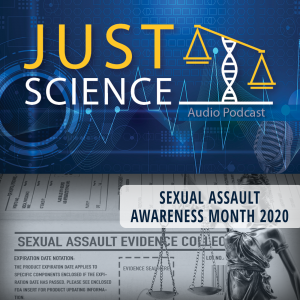 This week on Just Science, we are publishing a special release episode in honor of Sexual Assault Awareness Month. Social distancing, shelter in place, and other responses to COVID-19 can create a stressful environment for survivors of sexual assault especially if they feel they cannot access resources or are physically unable to seek help. In addition, highly stressful situations that result from significant amounts of change, such as unemployment, disruption in 'normal' activities, and social isolation may increase the risk of domestic violence and sexual assault. In this podcast, we will discuss what services are available to survivors of sexual assault, including leveraging on-line platforms and modified strategies for first responders, rape crisis centers, and victim advocates. We will also discuss how we as a friend, family member, and community can be prepared to respond to a victim of sexual assault in this challenging time.
Just COVID-19: The Impact to Supporting Victims of Sexual Assault
2020 NIJ R&D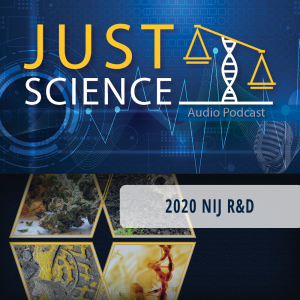 The 2020 NIJ R&D Season of Just Science features some of the research presented at the National Institute of Justice's Forensic Science Research and Development Symposium. Some of the interviews in this season were recorded at the 2020 AAFS 72nd Annual Scientific Meeting in Anaheim, CA, a professional meeting where attendees work to advance science, foster research, and promote collaboration within the various forensic science disciplines. This season's topics include the analysis of fentanyl compounds in emerging drugs, a tool for species identification of skeletal remains, methods for analyzing beverages for cannabinoids, the detection of firearm discharge via electrochemical sensors, and more. Tune in this spring to learn more about NIJ's diverse research portfolio!
Just Mitochondrial DNA
Just a Statistical Approach to Glass Evidence
Just Blowflies and Extreme Temperatures
Just Quick Screening Methods for Firearm Discharge Residues
Just Analyzing Beverages for Cannabinoids
Just Skeletal Remains Identification
Just Another Method for Detecting Fentanyl
Special Release Episode: HHRRC's Impact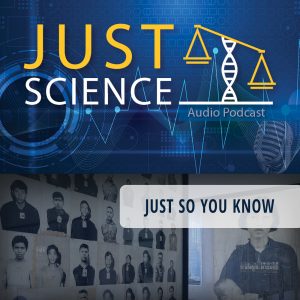 The American Academy of Forensic Sciences (AAFS) Humanitarian and Human Rights Resource Center (HHRRC) seeks to promote humanitarian and human rights action in the field of forensic sciences. This effort would not be possible without the support provided by NIJ's FTCoE and AAFS. The HHRRC improves the practice of forensic science and strengthens its impact on humanitarian and human rights issues through education and dissemination of best practices and guidelines. In this Just So You Know episode, Just Science sat down with Dr. Duarte Nuno Vieira and Dr. Cláudia Plens for a look at how NIJ's support of the HHRRC aids their mission. Tune in as we gain a broader understanding of humanitarian forensic action and how the HHRRC impacts forensic research around the world.
Improving the System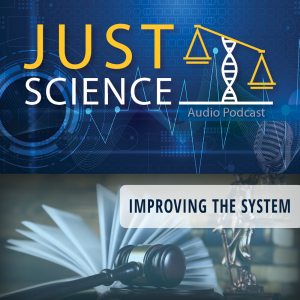 Researchers, academics, and forensic scientists are constantly striving to make improvements to existing processes within the criminal justice system. While many advancements have been made in recent years, there will always be room for growth and change. To begin 2020, Just Science will be meeting with leaders in the field to discuss the current state of the criminal justice system and the advancements they anticipate in the coming years. Listen along as we talk to representative from the National Institute of Justice, the National Institute of Standards and Technology, and the Innocence Project about their efforts to support and improve the criminal justice system.
Just the Innocence Project
Just the Organization of Scientific Area Committees
Just a Profile in Forensic R&D Innovations
Just the NIJ Needs Assessment of Forensic Laboratories and Medical Examiner/Coroner Offices
2019 Seasons & Special Release Episodes
2018 Seasons & Special Release Episodes
Forensic Advancement
Unchanged: The Forensic Advancement season of Just Science will focus on many areas that challenge forensic leadership within the community. A majority of these interviews were recorded at the 2018 American Society of Crime Lab Directors (ASCLD) Annual Symposium in Atlanta, Georgia. The ASCLD Symposium is an industry-leading conference designed for leaders and managers in the forensic laboratory space. The symposium boasts workshops and plenary talks designed around all aspects of forensic science, but particularly focuses on enhancing leadership and management in a forensic laboratory. This season will include episodes covering performance tools, ASCLD efforts in rapid DNA, return on investment for DNA databases, witness testimony, millennial personnel, laboratory public relations, and more.
Just ASCLD Rapid DNA Committee
Release Date: December 3, 2018
Guests: Katie Featherston, Brian Hoey, and Jeremy Triplett
Just Psychological Resiliency
Release Date: November 26, 2018
Guest: Dr. David Christiansen
Just FORESIGHT on Sexual Assault Kits
Release Date: November 19, 2018
Guest: Dr. Paul Speaker
Just Cognitive Bias Awareness
Release Date: November 12, 2018
Guest: Dr. Cecilia Crouse
Just the Soul of the Profession
Release Date: November 5, 2018
Guests: John Collins and Jay Henry
Special Release Episode: AAFS HHRRC
Just So You Know - FTCoE Team
Just Science is releasing a special Just So You Know series in celebration of National Forensic Science Week. Get to know the leadership, scientific, and technical staff that help keep the center running smoothly year round. Guests include Dr. John Morgan, Dr. Jeri Ropero-Miller, Donia Slack, Nicole Jones, Heidi Eldridge, Dr. Megan Grabenauer, Sarah Norsworthy, Nichole Bynum, Katherine Moore, Erica Fornaro, Molly Dix, and Dr. Kelle Barrick.
Episode Ten: Molly Dix
Release Date: September 21, 2018 
Episode Nine: Erica Fornaro
Release Date: September 21, 2018 
Episode Eight: Dr. Kelle Barrick
Release Date: September 21, 2018 
Episode Seven: Sarah Norsworthy, Nichole Bynum, and Katherine Moore
Release Date: September 20, 2018
Episode Six: Heidi Eldridge
Release Date: September 19, 2018

Episode Five: Dr. Megan Grabenauer
Release Date: September 19, 2018 
Episode Four: Donia Slack
Unchanged: Release Date: September 18, 2018 
Episode Three: Nicole Jones
Release Date: August 18, 2018

Episode Two: Dr. Jeri Ropero-Miller
Release Date: September 17, 2018

Episode One: Dr. John Morgan
Release Date: September 17, 2018
[/one_half_last]
2018 NIJ R&D
Just Science is releasing a season for the 2018 NIJ funded Research and Development. These guests were NIJ awardees that traveled to the annual AAFS Symposium this year in Seattle, Washington. Dive into the community's efforts to forward science and create a stronger justice system through knowledge. Some of the episode topics include research with skin microbiomes, SNP genotypes, implementing portable mass spec, and CT image databases.
Just Genetic Marker Linkages
Release Date: September 10, 2018
Guests: Dr. Michael "Doc" Edge

Just Portable Mass Spectrometer Possibilities
Release Date: September 3, 2018
Guests: Dr. Jamie Wieland and Dr. Christopher Mulligan

Just a Whole-Body CT Image Database
Release Date: August 27, 2018
Guest: Dr. Shamsi Berry
Just Skin Microbiomes as Evidence
Release Date: August 20, 2018
Guest: Dr. David Carter

Just Microhaps Perhaps
Release Date: August 13, 2018
Guest: Dr. Kenneth Kidd
Just Speak into the Microbe-phone
Release Date: August 6, 2018
Guest: Dr. Bruce Budowle
Drugs
In this season, Drugs, topics will range from legalization of marijuana in relation to police officers, the opioid epidemic, Electronic Dance Music Festivals, how witnesses' and victims' memory of events can be affected by alcohol, current vaping research, drug courts, and much more.
Just Opioid Financial Burden on Crime Labs 
Release Date: July 11, 2018
Guest: Dr. Paul Speaker

Just Classifying Emerging Compounds
Release Date: July 2, 2018
Guest: Dr. Barry Logan

Just Fentanyl Lab Fads with ASCLD
Release Date: June 25, 2018
Guest: Bruce Houlihan

Just Solving the Opioid Crisis 
Release Date: June 18, 2018
Guests: Dr. Jeri Ropero Miller and Dr. Gary Zarkin

Just Chasing the E-Cig Dragon
Release Date: June 12, 2018
Guest: Dr. Michelle Peace

Just Alcohol and Witness Recall
Release Date: June 4, 2018
Guest: Dr. Nadja Schreiber Compo
Just the State of Pathology
Release Date: May 29, 2018
Guest: Dr. Randy Hanzlick
Just Doobious Driving
Release Date: May 21, 2018
Guests: Jennifer Knudsen and Glenn Davis

Just Liver Die
Release Date: May 14. 2018
Guest: Dr. Carl Wolf 

Just Electronic Dance Music Festivals
Release Date: May 7, 2018
Guests: Amanda Mohr and Alex Krotulski
Just Drug Courts
Release Date: April 30, 2018
Guest: Preeti Menon
Just Field Identification Drug Officer
Release Date: April 23, 2018
Guest: Nancy Crump
2018 Impression, Pattern, and Trace Evidence Symposium
In this season we will cover content given at the NIJ Forensic Technology Center of Excellence's Impression Pattern and Trace Evidence Symposium.  The symposium was held January 22nd -25th 2018 in Arlington, Virginia, it had over 200 onsite attendees and over 400 online attendees. This season will include episodes discussing nature's patterns, fracture mechanics, juror's interpretations of testimony, toolmarks, and footwear with each topic discussing real-world examples. If you missed the symposium and wish to watch the archives, please click here.
Just Talking Testimony
Release Date: April 9, 2018
Guest: Xiaoyu Alan Zheng, Henry Swofford, Mr. Chris Fabricant, Dr. Steven Lund, Dr. Hari Iyer, and Dr. Alicia Wilcox
Just Bayesian Brawl
Release Date: April 2, 2018
Guests: Dr. Jose Almirall, Dr. Steven Lund, Dr. Hari Iyer, Dr. Cedric Neumann, Dr. Daniel Ramos, and Dr. Alex Biedermann

Just Handwriting Statistics
Release Date: March 26, 2018
Guest: Cami Fuglsby

Just Consecutively Manufactured Toolmarks
Release Date: March 19, 2018
Guest: Robert Thompson

Just Footwear Size Does Matter
Release Date: March 12, 2018
Guests: Chris Hamburg and Jeff Jagmin

 Just Geeking Out on Patterns
Release Date: March 5, 2018
Guest: John Vanderkolk

 Just Shoeprint Statistics
Release Date: February 26, 2018
Guest: Andrew Kimble

Just A Juror's Perception
Release Date: February 19, 2018
Guests: Dr. Alicia Wilcox and Heidi Eldridge

Episode Two: Just Fracture Matches
Release Date: February 12, 2018
Guest: Dr. Ashraf Bastawros
2017 Seasons & Special Release Episodes