2023 Seasons & Special Release Episodes
2022 Seasons & Special Release Episodes
2021 Seasons & Special Release Episodes
2020 Seasons & Special Release Episodes
Case Studies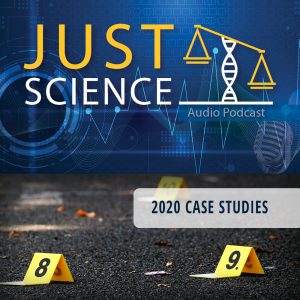 Criminal investigations often necessitate the application of a multitude of forensic disciplines. While some cases can be solved by a single piece of evidence, most have a myriad of evidence types to forward and investigation. Bloodstains, DNA analysis, latent prints, digital evidence, and reliable police work lead to arrests and can stop a criminal before any more damage is done.  
In our latest season, Case Studies, we sat down with a variety of experts and talked about their most interesting cases. Join us as we discuss bloodstain pattern analysis, photography, serial killers, and much more in this dynamic season of Just Science! 
Episodes Include:
Just Psychopathy and Criminal Behavior
Release Date: November 6, 2020
Guest: Mitchell Pilkington
Just the Story Behind Bloodstain Pattern Analysis
Release Date: November 13, 2020
Guest: Erin Sims
Just the Jodi Arias Case
Release Date: November 20, 2020
Guest: Heather Conner
Just Fingerprints And Lasers
Release Date: November 27, 2020
Guest: Brian Dalrymple
Just the Grim Sleeper Serial Killer
Release Date: December 4, 2020
Guest: Rockne Harmon
Just Identifying Fingerprints Through Photographs
Release Date: December 11, 2020
Guest: Karen Oswald
Just Erroneous Identification
Release Date: December 18, 2020
Guests: John Vanderkolk and Marcus Montooth
Just Off The Shelf Forensics
Release Date: December 25, 2020
Guests: Tim Schade and Brian Cochran
Special Release Episode: Forensic Genetic Geneaology & GEDmatch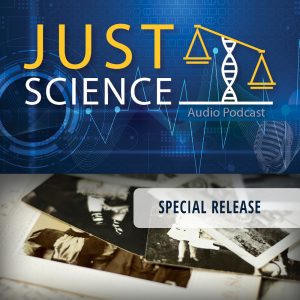 In this Forensic Science Week special episode, Just Science interviews Brett Williams, the CEO of Verogen, about the GEDmatch database, how it can be used by law enforcement to perform forensic genealogy searches for investigative leads, and the short- and long-term plans Verogen has for the widely used database and related services.
Verogen is a spin-off of the Illumina corporation and has grown to be an innovator in the realm of forensic genomic technologies. Since their inception, Verogen has evolved from forensic applications to focus on biometrics-based human identification, as a whole. Following this vision, in December of 2019 Verogen acquired GEDmatch, a crowd-sourced database used by millions of genealogy enthusiasts to trace their family trees, but more recently it has been adopted by law enforcement to aid in cold case investigations. Listen along with our guest host, Donia Slack, as she and Brett Williams discuss the impact that genetic genealogy and GEDmatch have had on the criminal justice system in this episode of Just Science.
Just Forensic Genetic Genealogy and GEDmatch:  Verogen's Approach
Release Date: September 25, 2020
Guest: Brett Williams
Digital Evidence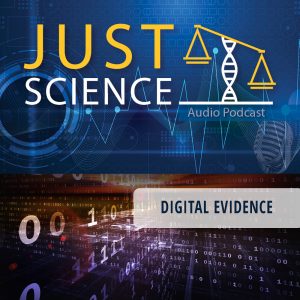 While the realm of digital evidence is still relatively new, it requires validation and testing like all forensic disciplines. Digital evidence is a dynamic discipline that can often provide greater insight into the investigation of a crime or the defense of the alleged perpetrator. In this season of Just Science, we will be covering the history and interpretation of digital evidence, emerging technologies used in investigation and as evidence, and the validation of digital forensic tools. 
Just the Evolution of Digital Evidence
Release Date: July 16, 2020
Guest: Paul Reedy
Just A Public Defender's Perspective
Release Date: July 23, 2020
Guest: Nicolas Hughes
Just Digital Evidence in the Courts of Appeals
Release Date: July 30, 2020
Guest: Martin Novak
Just Data Stories
Release Date: August 6, 2020
Guest: Paul Reedy
Just Digital Evidence 101
Release Date: August 13, 2020
Guest: Matt Ruddell
Just NIST's Digital Forensics Black Box Study
Release Date: August 20, 2020
Guest: Barbara Guttman
Just Deepfakes
Release Date: August 27, 2020
Guests: Dr. Catalin Grigoras and Cole Whitecotton
Just the Impact of Disturbing Media
Release Date: September 3, 2020
Guest: Dr. Kathryn Seigfried-Spellar
Special Release Episode: Resiliency in Crime Scene Investigators
Special Release Episode: COVID-19 & Supporting Victims of Sexual Assault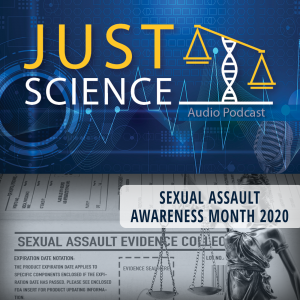 This week on Just Science, we are publishing a special release episode in honor of Sexual Assault Awareness Month. Social distancing, shelter in place, and other responses to COVID-19 can create a stressful environment for survivors of sexual assault especially if they feel they cannot access resources or are physically unable to seek help. In addition, highly stressful situations that result from significant amounts of change, such as unemployment, disruption in 'normal' activities, and social isolation may increase the risk of domestic violence and sexual assault. In this podcast, we will discuss what services are available to survivors of sexual assault, including leveraging on-line platforms and modified strategies for first responders, rape crisis centers, and victim advocates. We will also discuss how we as a friend, family member, and community can be prepared to respond to a victim of sexual assault in this challenging time.
Just COVID-19: The Impact to Supporting Victims of Sexual Assault
Release Date: April 24, 2020
Guest: Marya Simmons
2020 NIJ R&D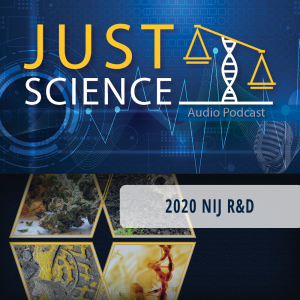 The 2020 NIJ R&D Season of Just Science features some of the research presented at the National Institute of Justice's Forensic Science Research and Development Symposium. Some of the interviews in this season were recorded at the 2020 AAFS 72nd Annual Scientific Meeting in Anaheim, CA, a professional meeting where attendees work to advance science, foster research, and promote collaboration within the various forensic science disciplines. This season's topics include the analysis of fentanyl compounds in emerging drugs, a tool for species identification of skeletal remains, methods for analyzing beverages for cannabinoids, the detection of firearm discharge via electrochemical sensors, and more. Tune in this spring to learn more about NIJ's diverse research portfolio!
Just Another Method for Detecting Fentanyl
Release Date: March 19, 2020
Guest: Dr. Ling Wang
Just Skeletal Remains Identification
Release Date: March 27, 2020
Guest: Dr. Heather Garvin
Just Analyzing Beverages for Cannabinoids
Release Date: April 3, 2020
Guest: Dr. Carl Wolf
Just Quick Screening Methods for Firearm Discharge Residues
Release Date: April 10, 2020
Guest: Dr. Tatiana Trejos
Just Blowflies and Extreme Temperatures
Release Date: April 17, 2020
Guest: Dr. Travis Rusch
Just a Statistical Approach to Glass Evidence
Release Date: May 1, 2020
Guest: Dr. José Almirall
Just Mitochondrial DNA
Release Date: May 8, 2020
Guest: Kimberly Sturk-Andreaggi
Special Release Episode: HHRRC's Impact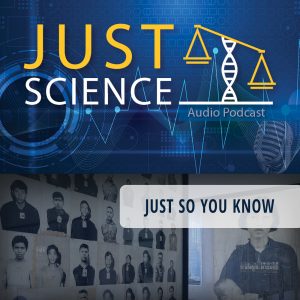 The American Academy of Forensic Sciences (AAFS) Humanitarian and Human Rights Resource Center (HHRRC) seeks to promote humanitarian and human rights action in the field of forensic sciences. This effort would not be possible without the support provided by NIJ's FTCOE and AAFS. The HHRRC improves the practice of forensic science and strengthens its impact on humanitarian and human rights issues through education and dissemination of best practices and guidelines. In this Just So You Know episode, Just Science sat down with Dr. Duarte Nuno Vieira and Dr. Cláudia Plens for a look at how NIJ's support of the HHRRC aids their mission. Tune in as we gain a broader understanding of humanitarian forensic action and how the HHRRC impacts forensic research around the world.
Just So You Know: The HHRRC's Impact
Release Date: March 4, 2020
Guests: Dr. Duarte Nuno Vieira and Dr. Cláudia Plens
Improving the System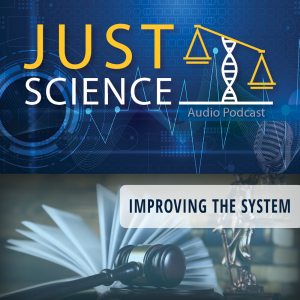 Researchers, academics, and forensic scientists are constantly striving to make improvements to existing processes within the criminal justice system. While many advancements have been made in recent years, there will always be room for growth and change. To begin 2020, Just Science will be meeting with leaders in the field to discuss the current state of the criminal justice system and the advancements they anticipate in the coming years. Listen along as we talk to representative from the National Institute of Justice, the National Institute of Standards and Technology, and the Innocence Project about their efforts to support and improve the criminal justice system.
Just the NIJ Needs Assessment of Forensic Laboratories and Medical Examiner/Coroner Offices
Release Date: January 13, 2020
Guest: Dr. Jonathan McGrath
Just a Profile in Forensic R&D Innovations
Release Date: January 23, 2020
Guest: Gerry LaPorte
Just the Organization of Scientific Area Committees
Release Date: January 30, 2020
Guests: John Paul Jones and Mark Stolorow
Just the Innocence Project
Release Date: February 7, 2020
Guest: Sarah Chu
2019 Seasons & Special Release Episodes
2018 Seasons & Special Release Episodes
2017 Seasons & Special Release Episodes