About Us
Together, the FTCoE partners encompass all of the forensic disciplines, providing to the FTCoE unparalleled experience, knowledge, resources, and expertise vital to the advancement of forensic science. Our academic partners are educational institutions accredited through the Forensic Science Education Programs Accreditation Commission and have a proven history of providing state-of-the-art education and research contributing to the forensic sciences. Our industry partners utilize a combination of science and advanced, novel technology to resolve criminal casework, further catalyzing the adoption of new methodologies and technologies into the field of forensic science.
Partners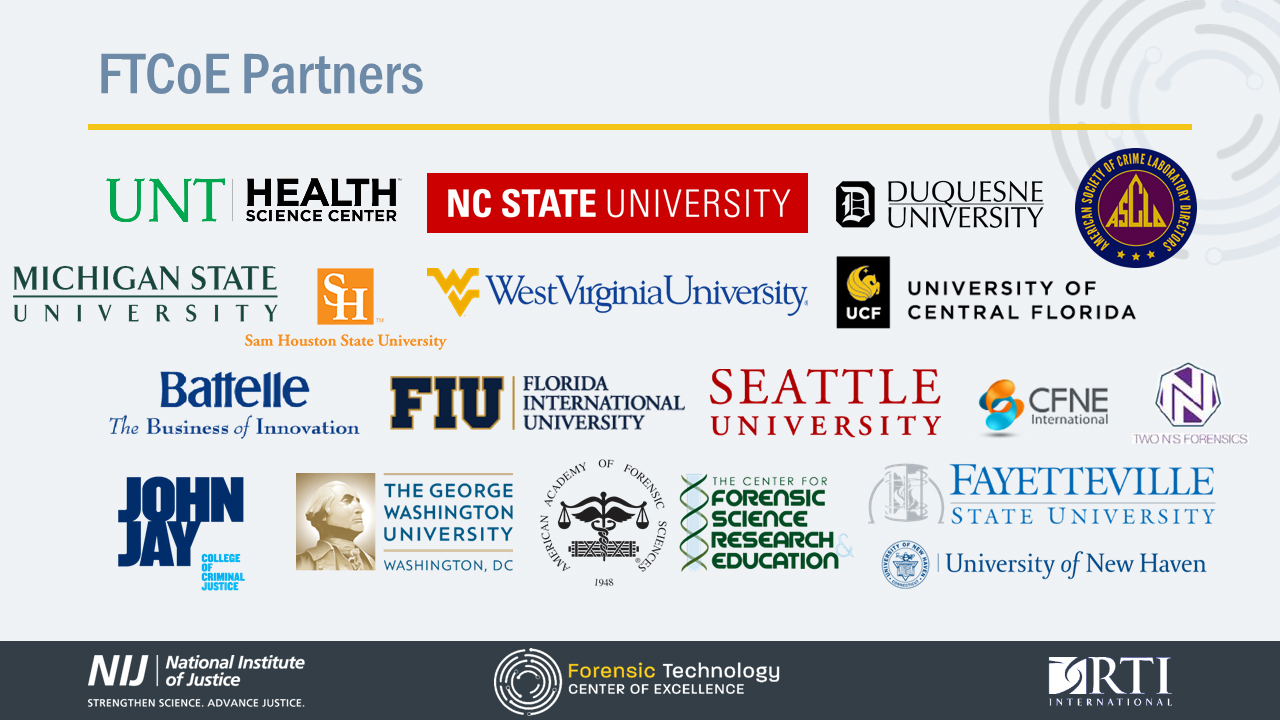 American Academy of Forensic Sciences (AAFS)
American Society of Crime Laboratory Directors (ASCLD)
Battelle
Center for Forensic Science Research and Education
Center for Forensic Nursing Excellence International (CFNEI)
Duquesne University
Fayetteville State University
Florida International University (FIU)
George Washington University (GWU)
John Jay College of Criminal Justice
Michigan State University
NC State University
Sam Houston State University
Seattle University
Two Ns Forensics
University of Central Florida (UCF)
University of New Haven
UNT Health Science Center
West Virginia University
A Snapshot of Our Collaborators
Federal Agencies
Bureau of Justice Assistance (BJA)
Federal Bureau of Investigation (FBI)
International Criminal Police Organization (Interpol)
National Institute of Standards and Technology (NIST)
Royal Canadian Mounted Police
Crime Laboratories
Arizona Department of Public Safety
California Department of Justice
Forensic Services New York State Division of Criminal Justice Services
Houston Forensic Science Center
Miami-Dade Police Department
New York Office of Chief Medical Examiner (OCME)
Office of Investigative Medicine at University of New Mexico (UNM)
Phoenix Police Department Laboratory Services Bureau
Raleigh/Wake City-County Bureau of Investigation
Richland County Sheriff's Department
---
Want to Partner with the FTCoE? Email us at ForensicCOE@rti.org.