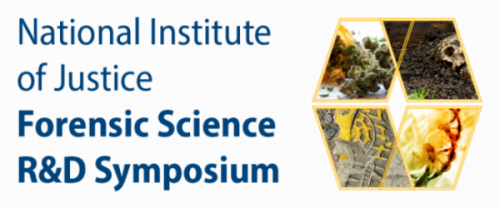 The Forensic Technology Center of Excellence (FTCOE) assisted the National Institute of Justice (NIJ) in hosting the annual NIJ Forensic Science Research and Development (R&D) Symposium on March 1st & 2nd, 2022 from 10:00 AM to 6:00 PM Eastern.
This year's event was completely virtual. Participants had access to a virtual poster session in addition to the symposium presentations and discussions.
NIJ and the FTCOE are committed to improving the practice of forensic science and strengthening its impact through support of research and development, rigorous technology evaluation and adoption, effective knowledge transfer and education, and comprehensive dissemination of best practices and guidelines to agencies dedicated to combating crime. Advancements within forensic science necessitate a forum to spread information and awareness.
During the R&D Symposium, researchers and practitioners met to discuss, discover, and share new approaches and applications to increase the impact of forensic science and elevate its status. The R&D Symposium was specifically designed to bring together practitioners and researchers to enhance information-sharing with the goal of moving research from theory to practice.
Watch the video for a brief message from the National Institute of Justice!
What:
2022 National Institute of Justice Forensic Science R&D Symposium
When:
This event originally occurred on March 1-2, 2022. 
The R&D Symposium published proceedings can be accessed by clicking the link below.
Day 1
Tuesday, March 1, 2022
SESSION I
Impression & Pattern Evidence/Trace Evidence

10:00 AM - 1:15 PM Eastern
SESSION II
Seized Drugs & Toxicology
2:15 PM - 5:50 PM Eastern
Day 2
Wednesday, March 2, 2022
SESSION III
Forensic Biology & DNA
10:00 AM - 12:50 PM Eastern
SESSION IV
Forensic Anthropology & Pathology
2:10 PM - 5:00 PM Eastern
This year we featured posters in all forensic disciplines. Check out the list of posters and access the poster session below!
Funding for this Forensic Technology Center of Excellence event was provided by the National Institute of Justice, Office of Justice Programs, U.S. Department of Justice.
The opinions, findings, and conclusions or recommendations expressed in this event are those of the presenter(s) and do not necessarily reflect those of the U.S. Department of Justice.
Contact us at ForensicCOE@rti.org with any questions and subscribe to our newsletter for notifications.