Advancing Technology  

|

  Sharing Knowledge  

|

  Addressing Challenges
The National Institute of Justice (NIJ) Forensic Technology Center of Excellence (FTCoE) is committed to improving the practice and strengthening the impact of forensic science through rigorous technology corroboration, evaluation, and adoption; effective knowledge transfer and education; and comprehensive dissemination of best practices and guidelines to agencies dedicated to combating crime.
The Forensic Technology Center of Excellence (FTCoE), led by RTI International, is supported through a Cooperative Agreement from the National Institute of Justice (NIJ), Office of Justice Programs, U.S. Department of Justice (awards 2016-MU-BX-K110 and 2011-DN-BX-K564). The FTCoE supports the implementation of new forensic technology and best practices by end users and is dedicated to elevating the status of forensic science through advancing technology, sharing knowledge, and addressing challenges. The FTCoE bridges the gap between the scientific and the justice communities.
Each year, the FTCoE works with NIJ to support evidence-based best practices and move knowledge from research to impact. In 2016, the FTCoE worked with hundreds of stakeholders within government and law enforcement agencies, academia, forensic laboratories, and law and advocacy offices to help prevent crime and promote public safety. For more information on FTCoE key project accomplishments, please read our 2016 Annual Report.
Advancing Technology
The FTCoE manages the testing and evaluation of emerging technologies applicable to forensic science. By identifying and removing the potential barriers that often derail the implementation and acceptance of new and innovative technologies, the FTCoE places promising technical innovations in the hands of forward-thinking practitioners, stakeholders, and policy makers. This is achieved through technical evaluation, technical assistance, and guidance resources. 
Sharing Knowledge
The FTCoE provides knowledge transfer and integration which strengthens the connection between forensic discovery and forensic process using a blended learning environment consisting of web-based presentations, workshops, specialized events, and discussions panels.
Addressing Challenges
The FTCoE is an established leader in the expeditious transition of research into the hands of practitioners. We understand the user needs, and through our support of the NIJ's Research and Development (R&D) portfolio, we identify and employ the requirements necessary to drive the adoption of research and development outcomes. To learn more about how the FTCoE supports the NIJ's R&D portfolio and provides technology transition support, please read our project update summary report.
The Forensic Technology Center of Excellence (FTCoE) participates in outreach activities within the forensic science community by providing technical assistance and support, sponsorship (of events, workshops, and discussion groups), attending and presenting at scientific meetings, and producing relevant publications and reports. The FTCoE remains engaged within the forensic science community by actively exhibiting at scientific meetings to promote our activities, provide relevant information, and obtain feedback as to the current needs of the community.
Do you have a meeting that could be enhanced by FTCoE participation? Let us know.
---
Recent Articles
An ABCNews4 article about "From Cradle to Cane Conference: Investigation of Crimes Against Vulnerable Victims" in Charleston, SC
A News & Observer article about "Discovery and Recovery: Death Investigation in Natural Environments," a 3-day workshop hosted by the Forensic Technology Center of Excellence in collaboration with North Carolina State University, Department of Biological Science.
TechBeat Articles
TechBeat is the award-winning newsmagazine of the National Law Enforcement and Corrections Technology Center (NLECTC) System. Their goal is to keep you up to date with technologies currently being developed by the NLECTC System, as well as other research and development efforts within the federal government and private industry.
Latest TechBeat Articles
Access All TechBeat Articles
Annually, the National Institute of Justice facilitates research and development to improve how the criminal justice system gathers and uses evidence. From research on DNA identification and biomarkers, to fire and arson and controlled substances, to anthropology and toxicology, the agency supports the enhancement and creation of innovative tools and techniques to identify, collect, analyze, interpret and preserve evidence.
The main goal is to get these innovations into the hands of practitioners, and taking such an innovation from its earliest concept stage to actual use can be complex. Success stories feature grant awardee's successful results obtained via their NIJ-funded research projects.
The Center for Forensic Sciences at RTI International produces a podcast called "Just Science," in a concerted effort with community/industry/discipline leaders to disseminate research and real-world practice to a wide audience, hopefully sparking conversations and innovations within the field.  Each year we will have topic-specific seasons that focus on the issues faced by forensic professionals, case study focused series and lots of other interesting episodes. Past seasons include Numbers, NIJ R&D, Case Studies, and Leadership. Just Science's current season being released include topics covered at the 2018 Impression, Pattern, and Trace Evidence Symposium.

We encourage you to listen and think about how you can influence the conversation.
You can also find us on Stitcher or Soundcloud !
Want to have quick updates about what the FTCoE is doing? Follow us on twitter! Follow @ForensicCOE
Are you attending an FTCoE event and want to tweet about it? Use our hashtag! Tweet #FTCoE
Visit our YouTube Channel  

Follow our page on LinkedIn 

Follow our page on Facebook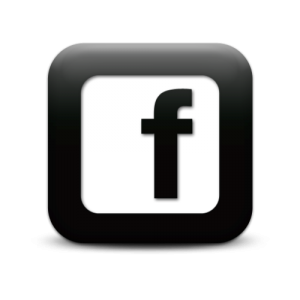 The Forensic Technology Center of Excellence (FTCoE), led by RTI International, is supported through a Cooperative Agreement from the National Institute of Justice (NIJ), Office of Justice Programs, U.S. Department of Justice (awards 2016-MU-BX-K110 and 2011-DN-BX-K564).
---

About the National Institute of Justice
NIJ — the research, development and evaluation agency of the U.S. Department of Justice — is dedicated to improving knowledge and understanding of crime and justice issues through science. NIJ provides objective an​d independent knowledge and tools to inform the decision-making of the criminal justice community to reduce crime and advance justice, particularly at the state and local levels. 
NIJ's pursuit of this mission is guided by the following principles:
– Research can make a difference in individual lives, in the safety of communities and in creating a more effective and fair justice system.
– Government-funded research must adhere to processes of fair and open competition guided by rigorous peer review.
– NIJ's research agenda must respond to the real world needs of victims, communities and criminal justice professionals.
– NIJ must encourage and support innovative and rigorous research methods that can provide answers to basic research questions as well as practical, applied solutions to crime.
– Partnerships with other agencies and organizations, public and private, are essential to NIJ's success.
The Forensic Technology Center of Excellence (FTCoE), led by RTI International, is supported through a Cooperative Agreement from the National Institute of Justice (NIJ), Office of Justice Programs, U.S. Department of Justice (awards 2016-MU-BX-K110 and 2011-DN-BX-K564).
---

About RTI International
RTI International is an independent, nonprofit institute that provides research, development, and technical services to government and commercial clients worldwide. Our mission is to improve the human condition by turning knowledge into practice.
Combining scientific rigor and technical proficiency, we deliver reliable data, thorough analysis, innovative methods, novel technologies, and sustainable programs that help clients inform public policy and ground practice in evidence. We scale our approach to fit the demands of each project, delivering the power of a global leader and the passion of a local partner.
Our experts hold degrees in more than 250 scientific, technical, and professional disciplines across the social and laboratory sciences, engineering, and international development fields. Our staff of more than 5,000 works in more than 75 countries—tackling hundreds of projects each year to address complex social and scientific challenges on behalf of governments, businesses, foundations, universities, and other clients and partners.
Together, the FTCoE partners encompass all of the forensic disciplines, providing to the FTCoE unparalleled experience, knowledge, resources, and expertise vital to the advancement of forensic science. Our academic partners are educational institutions accredited through the Forensic Science Education Programs Accreditation Commission and have a proven history of providing state-of-the-art education and research contributing to the forensic sciences. Our industry partners utilize a combination of science and advanced, novel technology to resolve criminal casework, further catalyzing the adoption of new methodologies and technologies into the field of forensic science.
Partners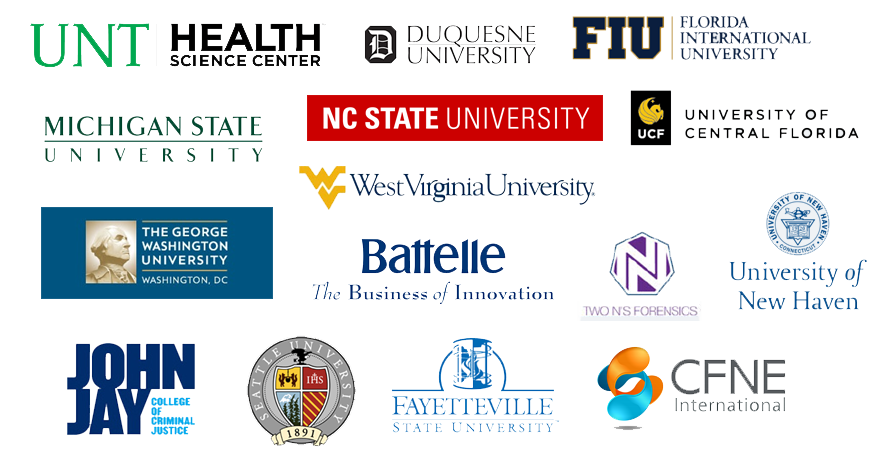 A Snapshot of Our Collaborators
Federal Agencies
Bureau of Justice Assistance
Federal Bureau of Investigation
INTERPOL
National Institute of Standards of Technology
Royal Canadian Mounted Police
Crime Laboratories
Arizona Department of Public Safety
California Department of Justice
Forensic Services New York State Division of Criminal Justice Services
Houston Forensic Science Center
Miami-Dade Police Department
New York OCME
Office of Investigative Medicine at UNM
Raleigh/Wake City-County Bureau of Investigation
Richland County Sheriff's Department
---
The RTI International team is composed of creative, innovative members who are articulate in forensic science and hold key positions or memberships in organizations within the forensic science community. In addition, this team has a proven history of providing unbiased scientific credentials and respected expertise across all forensic disciplines. Our unprecedented blend of expertise, experience, and knowledge in forensic science—combined with our objectivity and national reach to include all justice program stakeholders— allows the team to deliver practical and valuable solutions to the forensic science community, thereby bridging the gap between the scientific and the justice communities.
The RTI International Team